子供たちへ :
   - 共同ニュース (Jun 25, 2010) -
  安保改定時から核密約と認識 岸首相、藤山外相  
米軍核搭載艦船の日本領海への通過・寄港を容認した核密約
に関連し、60年の日米安全保障条約改定時に、藤山愛一郎
外相が米国と交わした「秘密議事録」について、岸信介首相と
藤山外相が密約だと認識していたことを示す米国務省文書が
見つかった。
同議事録には、通過・寄港を日米間の事前協議の対象外と
したい米側の意向を反映した条項が盛り込まれていた。(共同)
  ==
この岸は、戦争犯罪人。
それの弟が佐藤栄作元総理。
岸の孫がボンボンのアベ。
首相は、ポーンと仕事を放り投げて辞めるのが得意だけど
最近の投げ出し代表。
彼らが死んでいても司法は、有罪判決、評決を下すべき。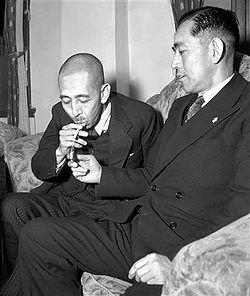 ▲ ムショから出たばかりの岸と弟の佐藤栄作
ひとつの家族から3人が総理大臣になる国なんかない。
民主主義なわけがない。
▲ A scene from a Japanese "Sopranos" movie?
" No. "
Kishi - the one on the left smoking - was a
" War Criminal A-class " and he came out of the
prison quickly and is now relaxing in
his palace with his brother (1948).
He became the prime minister a few years later
and his brother - the one on the right -
Eisaku Sato also became the prime minister.
They both illegaly let US navy bring in nuclear
heads to Japan which is against the constitution.
Their grandson Abe also became the prime
minister about 3 years ago.
Abe's hero was his grandfather and he ran an ad
in New York Times and the ad said that the
"Comfort Women" during the War Two were
all volunteers.
He made a poster with his close-up face with
the headline of " Beautiful Japan " and
put it up all over the country.
3 guys from one family became
the Prime Minister?
1 guys is a war criminal?
They all not just support imperialism.
They lived it.
How about after Abe?
No more that kinda guy?
Well, a guy called Aso took it over.
His grandpa ran a miner where a number of
POWs were forced to work in the toughest
and worst conditions.
He later started a cement/concrete company
and the entire Japan got cemented up in
1950s - continue into 2010.
Japan's consumption of concrete/cement is
the world's number one although the size
of Japan is smaller than the state of
California.
Aso family, working very closely with the
government got extremely rich.
" Mr Cement " was our Prime Minister until
August last year.
Welcome to the Land of Rising Poison Sushi.
  ○● Doug's Report ○●
Good morning Eiji, and ST.
Part 1
ST rightly points out how governments run
by elitist individuals often make decisions on
behalf of others under the disguise of "
for their own good".
We all know how dangerous this thinking
is.......people left with too much power can
start wars.
Elected officials worldwide easily forget they are
employees of all taxpayers.
Politicians [elected officials] are employees
not the bosses. We are!
Part 2
Newspapers often report on cities that win
kudos for livability/sustainability.
How do they do it?
I'm sure you will find a government that develops
a plan with their taxpayers input.
You will be interested to know one of the cities
you like to visit, Victoria Canada is currently
asking its citizens for their IDEAS on how THEY
would like to develop a city plan for the next
30 years via meetings and an internet site.
http://www.shapeyourfuturevictoria.ca/.
You can add your comments as well !!!
Victoria also wants to IDEAS from visitors.
How wonderful it is for a city government to
listen to its residents requests.....I guess that is
why many people want to visit and live in Victoria.
Part 3
July 11 is election day in Japan, and a great
opportunity to encourage new politicians who
appear to want to listen to its citizens.
Please give them a chance by getting out to listen
to their ideas and get out and vote for them.
It is a very important duty for the peace and
happiness of the world.......
This is the good news I found today to share
with Straight Talk readers.
Please comment on how important it is to
speak up and share your IDEAS.
This is discouraged by many "old" teachers
in Japan right now.....
Doug