- Suite 101.com -
Canadian City Begins Enforcement
of Smoking Ban on Beaches
By Marcus Hondro
Published May 22, 2011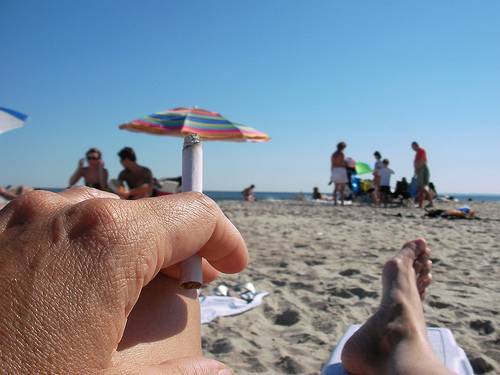 Smoking on Beaches
in Vancouver Now a No-No
Photo by Shnnn
Last year Vancouver joined many other cities to ban smoking on beaches and outdoor pools.
The 2011 May long weekend is their first test.
Late last summer the city of Vancouver, Canada joined with a growing list of cities and banned smoking at outdoor pools, on city beaches, in parks and in other areas. Though the law has been in effect for months the long weekend of May 21, 2011 gives the city its first experience enforcing the ban.
The 10 large ocean-side beaches and 18 km. (11 mi.) of beach in Vancouver traditionally get crowded for the first time in the year on the May long weekend as thousands flock to beaches for sunning, swimming, tennis, beach volleyball and other activities. City officials say they have not done much in the way of enforcing the smoking ban to date but expect that to change over the 3 day weekend.
Fines for Smokers on Vancouver Beaches
The vote to ban smoking on beaches was won unanimously by city council. "Vancouver has joined a long and growing list of cities and regions in North America and internationally that ban smoking in parks and on beaches. Vancouver's ban took effect September 1, 2010, prohibiting smoking in all 224 parks," the city's municipal website says.
"The list of places impacted includes beaches, golf courses, playgrounds, sports fields, trails, seawall, business and attractions, and parking lots that are within the boundaries of a park."
For this May weekend in Vancouver the city park rangers and bylaw officers are simply handing out warnings to those found smoking on beaches and in parks. But in the future when they start to hand out fines smokers will have to pay $250 for violating the by-law the first time; violate it a second time and the price can go as high as $2,000.
Worldwide Bans on Public Smoking Growing Trend
There are now bans on smoking in parks and on beaches in many cities in North America, including New York City and many cities in California such as Long Beach, Los Angeles and Malibu. There are also bans on smoking on the beach in Australian towns and cities. Europe and other parts of the world are banning smoking in many public places though the smoking on beaches ban is much more prevalent in North America and Australia.
In addition to the health effects of secondhand smoke, other reasons being cited in Vancouver for the smoking ban on beaches include the smell of cigarettes and the accumulation of cigarette butts.