== From a Reader / 読者から ==
   Violation of Woman rights
Between 200.00- 400.000
Korean, Japanese, Chinese, Dutch,
Indonesian, Filipinas, and other
South East Asian women were
systematic raped by the Japanese Army.
It started with the invasion of Manchuria
at 1931 and ended at 1945 by the
surrender of the Japanese Army.
In1934 the first 14,,Comfort stations,,
started in Shanghai controlled by the
Japanese Army
Dec 1937 the Rape of Nanking started.
In 6 weeks time more then 300.000
Chinese civilians were systematically
raped, tortured, and killed.
Between 20.000-80.000 women were raped.
1937 the Comfort Stations were organized
by Mamori Iinrma head of human resource of
the Expedition Army in Central China.
Comfort woman became a regular party
in Japanese Army and went all of the
the Pacific and Asian war
The system of forced prostitution
was racist based
Japanese, Korean, Taiwanese, Chinese,
South East Asian, European
The Japanese Army was the biggest
organizers of the,,Comfort Stations,,
they controlled all
There where stationary,,Comfort Stations,,
but also mobile ones.
These stations followed the Japanese
Army into the battlefields
By the notorious railroads in Manchuria
and the horror Burma Death railroad the
,,Comfort Stations,, was located in trains,
mostly Korean woman
The average woman has to give,
comfort,, to 20-30 soldiers a day.
Some of them close to the front went
up to 100 a day
Some Taiwanese woman every 3 minutes!
In the Dutch Indies woman were taken
by force from the woman prison camps
to go into the Army brothels
Taken from Ambarawa camps, and other
camps going into Batavia, Magalang,
Penalongen, Semaring, Bandung,
Bondowoso
It was coronel Okubo who suggested to
coronel Ikeda to take the woman from the
prison camps for the army soldier's brothels
Some of them called the Semarang club,
officers club Shoko, Hinomanu, Futubasu
The Japanese Army forced the woman
to sign a Japanese written document
what said that they all volunteered to
this,,Comfort Stations,,
After the surrender of the Japanese Army
all evidence were destroyed, many of the
woman were killed so nobody could testify
Many of the survival women never returned
to their country because of shame.
Yuki Tanaka; Hidden Horrors,
   Japanese war crimes World War II
Sandra Buckly; Broken Silence 1997
Tong; In the name of the Emperor
( 1992 documantation)
Iris Chang; The Rape of Nanking
T.Morris-Susuki; Showa.
    Inside story of Hirohito's Japan
Momuro Iinrma; fragments of diary
            Battle of Nanking
Kim il Myon; Tenno guntai to
                Chosenjin Ianfu
Keith Howard; True Stories of
        Korean Comfort woman
Yoshid Seiji; Watakushi no
     Senso Hanzai Chosenjin Kyosei Renko
George Hicks; Comfort Woman
Jan Ruff O'Herne; 50 Years of Silence
Briggite Ars; Comfort woman,
     Rape in the name of the emperor
Prof.Hayahi Hirofumi; Japanese comfort
     woman in South East Asia (paper)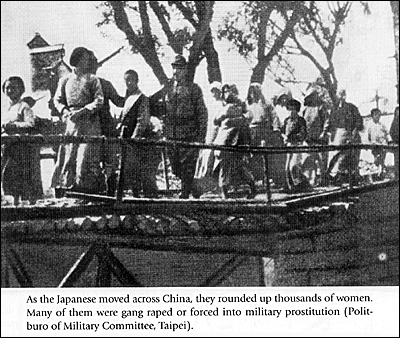 中国で少女や女性たちを強制連行する日本軍。
暴行し、奴隷にするため。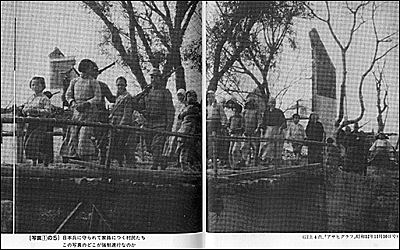 1931年の満州侵略から
1945年の終戦まで、女性への最悪の暴行は続いた。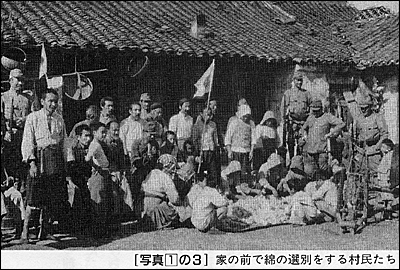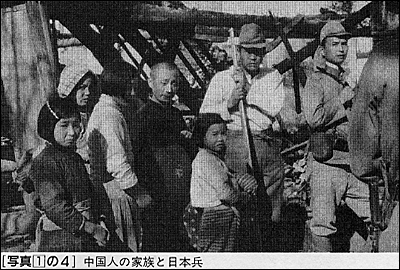 今でも、東南アジアでの女性の売買の
最大の顧客が日本。
いやらしいマンガや新聞やメイドや・・
ただのスケベを超える日本の野獣たち。
  ==
降伏後、日本軍は、この最悪大犯罪を隠すために
証拠をすべて破壊した。
奴隷にされていた女性の多くを虐殺した。
証人を残さないために。
生き残った女性の多くも祖国やふるさとには
帰れなかった。
女性にとって、それは 「恥」 と考えられたから。
彼女らは、ちっとも悪くないし、
最悪の苦痛に耐えた人たちなのに。
チャイナでも朝鮮でも東南アジアでも南太平洋
でも、日本軍は、これらの女性の奴隷を従えて
戦地へ行った。
世界のどこを探しても、こんなことをこんない
大がかりにやったことは、ない。
マフィアでもヤクザでもどんなギャングでも
やらない最低な犯罪を国がやった。