Houses swept from Japan about
     to reach our shores
     Tsunami debris could
      arrive within days
By Sandra McCulloch, timescolonist.com
November 9, 2011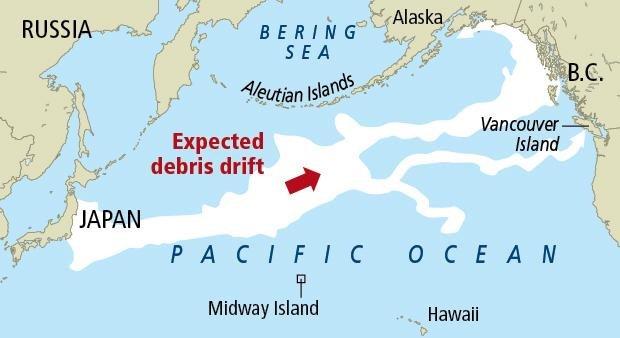 Photograph by: ., timescolonist.comThe largest items swept out to sea following the Japanese tsunami in
March could arrive on the B.C. coastline within days,
oceanographer Curt Ebbesmeyer predicted
Wednesday.
The main part of the 20-million-tonne debris field,
equivalent in size to the state of California, isn't
expected until about 2014. But houses, fishboats
and small freighters, carried by wind, could
already be close to our shores, Ebbesmeyer said.
"We just finished running a simulation with a
drifter, a buoy that got lost in the area of the
tsunami, and we find that the first of the debris
would be here now," Ebbesmeyer said.
Beachcombers along the west coast of B.C.
should be on the lookout and report any
unusual finds, he said.
Ebbesmeyer is a Seattle-based oceanographer,
educated at the University of Washington,
who tracks flotsam using computer models.
He has consulted for multinational firms, working
on projects such as the BP oil spill in the Gulf of
Mexico last year.
The March 11 earthquake and tsunami in Japan
prompted Ebbesmeyer and fellow oceanographer
Jim Ingraham to run computer simulations on the
path of debris carried out to sea by the tsunami.
Debris moves faster if it is exposed to the wind,
Ebbesmeyer said.
"People who base their results on
satellite-tracking buoys get a slower speed than
those of us who track Nike shoes and hockey
gloves and airplane wings," Ebbesmeyer said.
Researchers Nikolai Maximenko and Jan Hafner
at the International Pacific Research Center in
Hawaii are monitoring the debris field through
computer models and ship reports.
Hafner said Wednesday that wind-blown
flotsam isn't part of his research.
He said ocean currents will deliver a significant
amount of plastic to this area in 2013 or 2014.
The majority will remain in a North Pacific
"garbage patch," where swirling currents
surround a vast amount of seaborne junk.
The crew of a cargo ship near Midway Island
spotted an 18-foot vessel in the debris field,
Hafner said.
The Japanese have immense respect for
belongings such as fishboats, said Ebbesmeyer,
predicting an influx of Japanese tourists coming
to B.C. to see washed-up debris.
"When people find something on the beach,
they are literally putting their hands on
something that a family wants to know about,"
he said.
A Japanese fishboat that washed ashore in
Prince Rupert several years ago has become
a shrine to fishermen lost at sea, he said.
Tofino beachcomber Barry Campbell can relate.
A few years ago, he found a sealed bottle on
the beach containing a note written by students
at a Japanese school.
He wrote to the school "and got a huge stack
of letters from each individual class," most of
them in Japanese.
Ebbesmeyer is asking anyone seeing floating
debris of an unusual nature to take a
photograph and send it to him through his
website at flotsametrics.com.
A Transport Canada spokeswoman said
contingency plans are in the works to deal
with debris that might pose navigational
hazards in Canadian waters.
smcculloch@timescolonist.com
© Copyright : The Victoria Times Colonist